Bathroom Design Tips To Consider Before Remodeling
Get The Most Out Of Your Space
So you've decided it's time to give your most precious room a facelift. But where do you even start? From the sink and shower to the lights and "throne", there is a lot to consider before demolition begins. Here are 5 practical bathroom design tips that can help you get the most out of your next project!
Size Matters
Whether you have a small space or a larger one, making sure that your vanity is as large as possible can actually make your bathroom feel larger and provide more countertop space and storage. Win-win! Keep note: When choosing a larger vanity make sure to not disrupt the flow of traffic when entering or leaving the bathroom. 
Picking The Perfect Stone
When it comes to choosing the perfect stone to accent your sink, shower, or bathtub, it's important to consider the upkeep. A stone, like onyx that is non-porous, and easy to clean, which makes it a great choice for your bathroom needs. When choosing more natural stones that are more porous like marble, you'll find yourself needing to do more sealing and clean up than normal to prevent stains and other damage over time.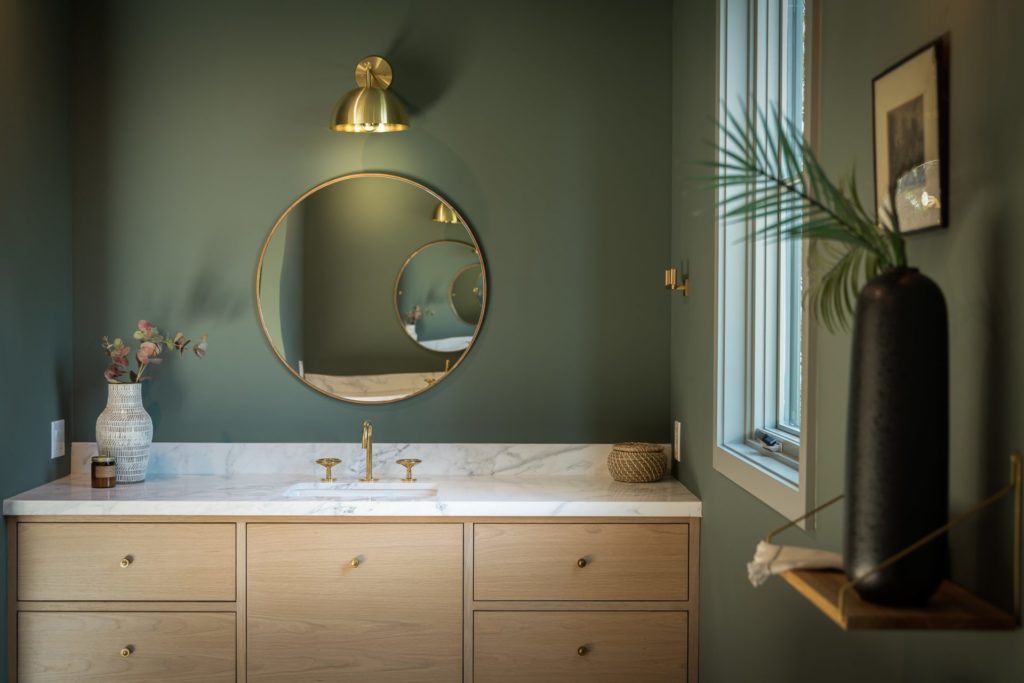 Shine Bright
Bathroom lighting is a crucial component of a beautiful and spacious room that is worth the extra hour to pick out. Make sure to include task, accent, ambient, and decorative lighting throughout. Place lighting in a way that prevents shadows from being cast on your mirrors, or add a chandelier over your tub to give that extra dramatic flair.
If you are one of the lucky ones to have a window in your space, use it! Natural light helps make spaces look bigger and will give your space the extra glow it needs. Ensure that you don't block your window with plants or a curtain that could hinder any light from pouring in.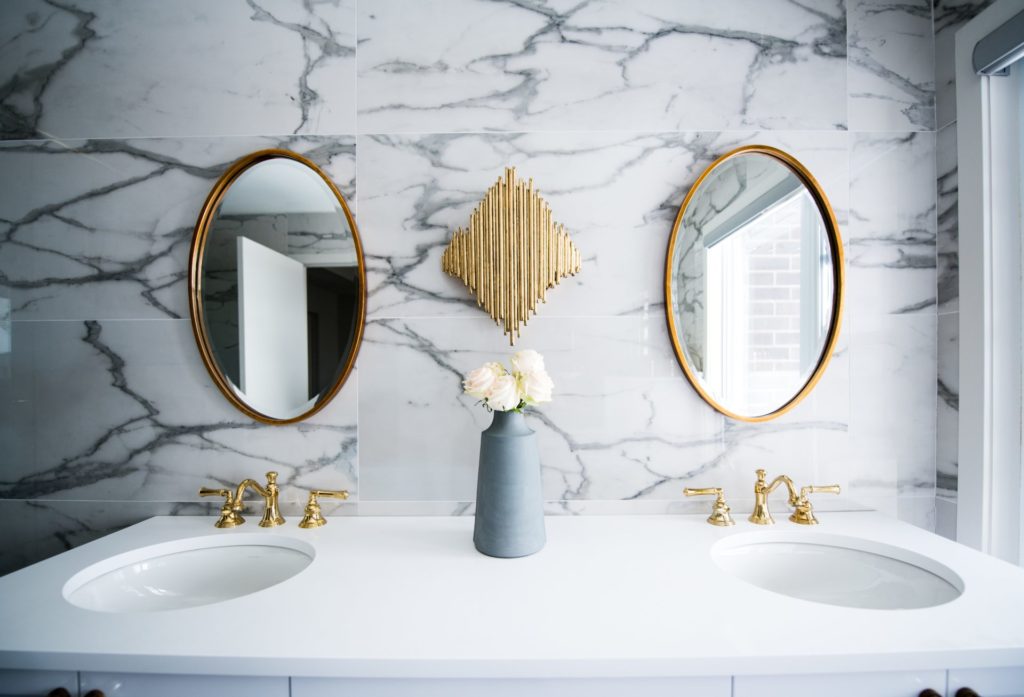 Deciding On A Layout
The layout of your bathroom can vary depending on the room size and placement of the hookups. Some things to consider when designing your layout are to keep the first focal points you see spa-like features. When you walk in, you want to feel like you are ready for a day of pampering.
Ensure there is enough space for each focal point. It won't be as pleasing to see an oversized tub in a small space and will make everything feel cramped. Size accordingly.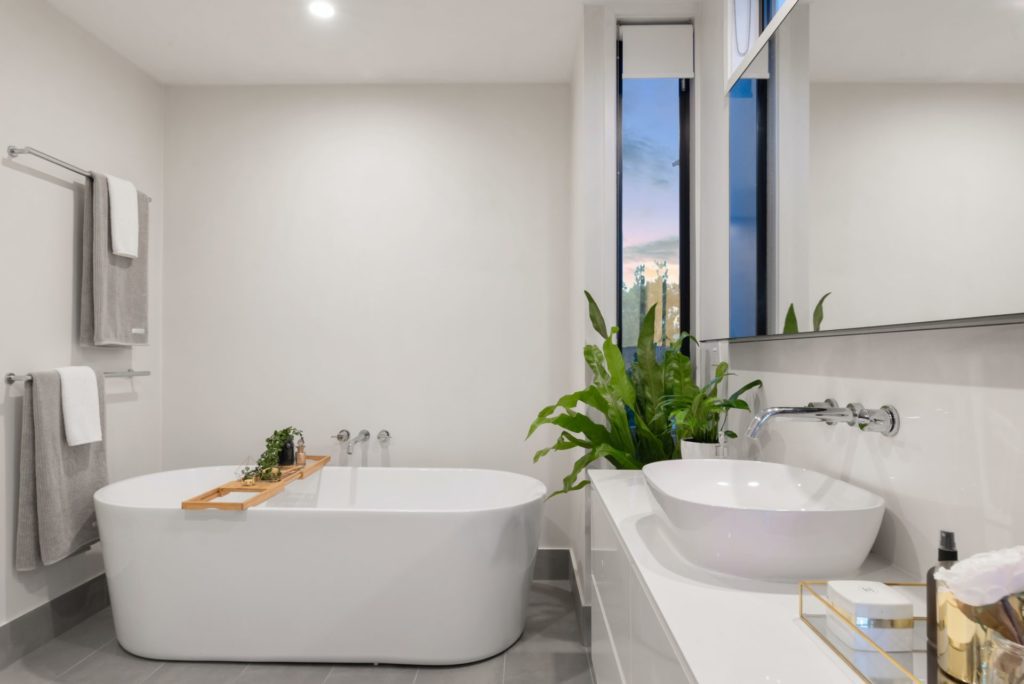 Functionality
There are a lot of things that most people might not consider when designing a new bathroom that can actually provide a lot of conveniences. Some examples could be deciding on the layout/design of your standing shower and countertop. For your shower, have the showerhead a handheld option. This can make for an easy transition when needing to do things like clean your shower. For your countertop, make sure the height is appropriate/comfortable for normal tasks like washing your face or brushing your teeth.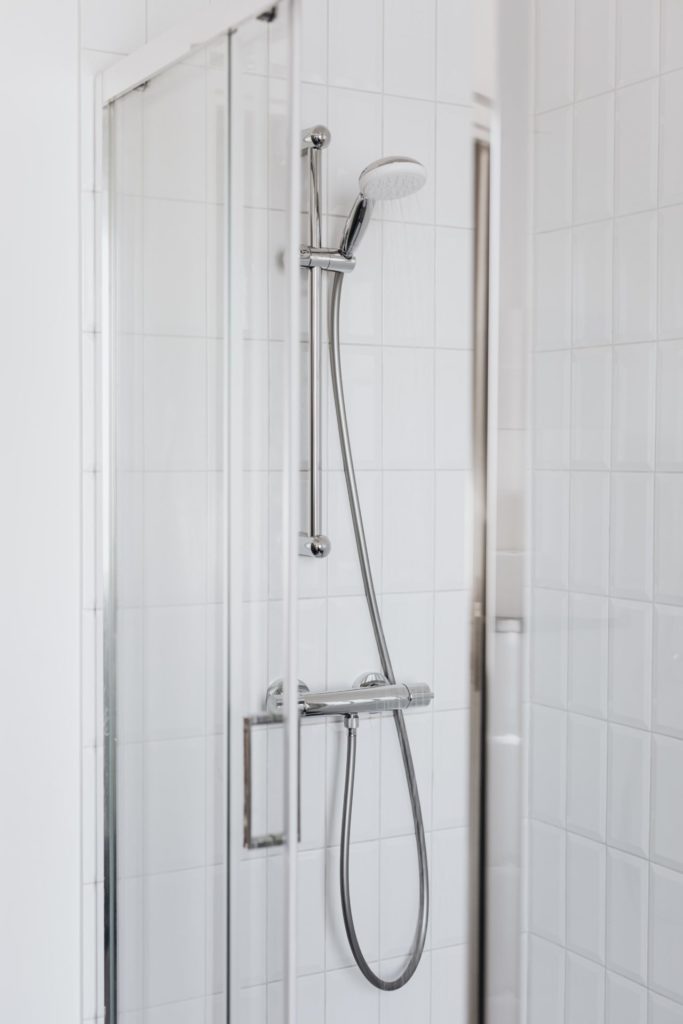 Take Your Time
Designing a new space for your bathroom takes time – and that's okay! Consider everything from large details to small ones. When picking out lights, tile, stone, mirrors, storage options, fixtures, and more, the beauty is in the detail. In the end, you'll be happy you took the time to create a space that makes you feel refreshed and clean.
Help Is On The Way
It can be overwhelming designing and implementing a new bathroom from start to finish on your own. We get it. That's why Simple Bath's consultants make sure to take the time and full effort to ensure you have the most spacious, efficient, and beautiful bathroom on the market. Reach out to schedule your bathroom design consultation today!